James Armstrong Clerk of the Course at Newcastle and Hexham talks to Ontoawinner.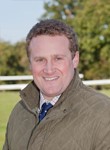 Q. How and when did you become a Clerk of the Course?
2000 I moved from Pontefract racecourse to Gosforth Park after 2 years as Norman Gundill's Assistant & 'Go for'!
I started training on arrival & was accredited in 2001 and took over from the retiring Clerk of Course, Major David McAllister.
Q. Can you tell us a little about your day to day role as Clerk of the Course and what it involves on a typical race day?
Arrive 6am so can give out overnight weather information and check course conditions. A visit to the stables to check with the stable manager all is well with the horses & staff lodged here overnight.
Thereafter organise the paper work for racing itself, everything from arranging the timetable to get horses & jockeys down to correct starts in time for race to be off on time (if we are more than 3 mins late for a race it results in an Stewards inquiry!), to info for jockeys so they know which way to go to starts, any obstacles omitted or course layout changes.
Breakfast is usually followed by a general walk of the horse route from stable to Parade ring to check all is well and safe. I tend to walk the course a couple of hours before racing so the most accurate going description can be giving but it allows me time to ensure all the vital officials are on site for racing to go ahead.
We can not race without the required numbers of Drs, Vets, Paramedics, Nurse, 1st aiders, horse ambulance, farriers etc. If any have not arrived between an hour or an hour and a half before racing I will chase them up to ensure they are here!
There are a lot of pieces of the jigsaw to pull together to ensure all arrive before a meeting can be given the go ahead. I tend to get in touch with them all 24hrs in advance to ensure there are no mishaps. It can take one person not being here at the right time to jeopardise a whole fixture!
Once all are on site I will liaise with the grounds team about their responsibilities for the day.
1hr before racing I will attend a briefing of all the BHA officials (Stipendary stewards, Judge, Clerk of the Scales, Starters, BHA vets & Stewards) to go through the racecard and discuss any individual problem horses that might kick or be tricky going to the start. Non-runners & reasons, horses with veterinary historical probs, horses that have requested to go early to start & any other relevant information that may affect the function or smooth running of a raceday.etc…this if then disseminated to Drs, Vets & groundstaff acting during the day.
The Drs & Paramedics also have a thorough briefing before racing so everyone knows exactly where they are to be & the duties they will be carrying out for the day.
After this and before the first race I tend to go and have a word with the jockeys (more so in NH season) to describe any course changes and dish out any relevant safety info. Its good to liaise and chat with them and hopefully prevents any potential problems.
I make sure that I am in the Parade ring well in advance of each race to keep an eye on horses and their behaviour especially as members of the public & connections are not always equine aware.
I will refer to the timetables and ensure jockeys are mounted in time for horses to get to the start for their girths to be checked before flag fall or Stalls open to start racing!
During racing I watch everything from a high vantage point. As the race unfolds and should anything untoward happen I will feed information back to the Medics, vets and groundstaff as they follow the races in the patrol vehicles on the inside road. Information on fallers, where its happened, loose horses, bypass procedures, any possible damage to fences or rails that need sorting before the next circuit or race. All is well rehearsed but many scenarios cannot be forseen but practise helps make staff aware & ensure procedures hopefully run smoothly!
Its good to liaise again with jockeys throughout the day to get their opinions on what they think the ground is and get feedback on anything else.
The remaining races are all treated in the same way and there is no time to sit back & relax…its usually when you least expect it something goes wrong so you have to be on your metal till the last horse at the end of the day has left the track before to can drop your guard!
Q What do you enjoy most about working at the racecourse?
I'm not tied to a desk and have wonderful 800acre estate in which to work! I have love the sport from a very early age & sometimes have to remember I am doing something that is a hobby as well as a job! Racing is a leisure activity designed to create fun for those involved being it a trainer, jockey, owner, employee or punter. Its a small niche world in the grand scheme of life that should be enjoyed. We are all in it for the love of the sport and its full of fun & fascinating characters. Its up to us to make it as safe but fun as possible.
Q. What is the most challenging aspect of your job?
Easy…the weather!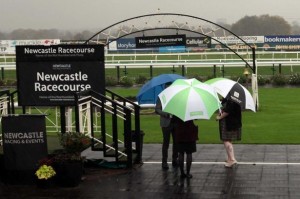 Q. How is the all-weather track that is being laid at Newcastle coming along & what problems will that surface bring?
All is going well & pretty much to schedule at present.
The surface (Tapeta) will hopefully bring less problems than turf. The whole idea of the AW is to ensure a consistent & safer surface. There should be no problems just new challenges. We have to essentially learn a new trade in how we manage it but with time comes experience and we will know doubt learn in time & through hopefully only the odd minor mistake!
Work ongoing to lay the new all-weather track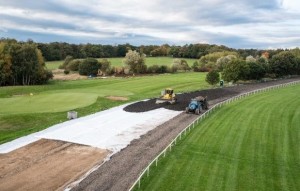 Q. What are the most memorable races you have seen run at Newcastle and Hexham?
I loved both Harchibald's Fighting Fifth wins, Comply or Die's Eider win (some feat to do that & go on to win the Grand National in the same year). Tominator's two wins especially the 2nd will long live in my memory.
Harchibald winning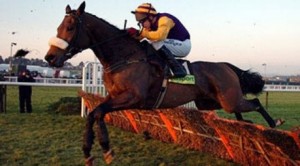 Tominator winning the Northumberland Plate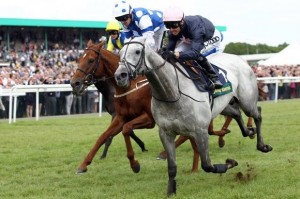 Q. What was and currently is your favorite racehorse?
Harchibald was…Min & Vautour might be my next depending what happens in March!
Lochsong winning the Prix de l'Abbaye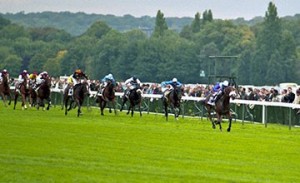 Q. Flat or Jumps?
Jumps but get into Flat once its up & running!
Q. When you get some spare time, what are your interests and hobbies?
Drawing, painting & photography (www.jamesrfarmstrong.co.uk) general outdoors fun (fishing, stalking, shooting with the dog!)
Please check James's web site there are some excellent sketches and drawings and James has produced some fantastic commission works.
Ontoawinner would like to thank James for his time in answering these questions.