Q. How and when did you become the Executive Director at Newcastle Racecourse?
I joined in April 2002 when Sir Stanley Clarke owned the business (he gave me 2 years to sort the business out, no pressure then!) and left in Oct 2008 to join NUFC when Mike Ashley bought control of the Club. I returned to the Racecourse in 2012 under ARC
Q. Can you tell us a little about your day to day role as Chief Executive and what it involves on a typical race day?
With an 812 acre Estate, Racecourse, Conference & Banqueting, Golf Club and Pub, my day is usually filled with managing the various areas and meeting the relevant Heads of Departments who operate the businesses within the High Gosforth Park Estate. Meeting with clients, such as corporate partners, Owners & Trainers and Bookmakers is part of the role but I am working in an Industry that I regard as a hobby, so I am lucky and relish the role I have. Building up to busy summer race meetings such as Plate and Ladies Day is also rewarding and at the moment we have a major development going on…………….that takes some of my time!
Newcastle Racecourse and Estate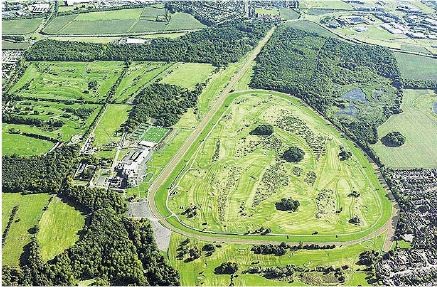 Q. What do you enjoy most about working at the racecourse?
I've worked in a sporting environment for over 18 years (although I am a Hotelier to trade) and regard myself as being in a lucky position that I am working in an Industry I enjoy. Working within this wonderful Estate when the sun shines and having the freedom to roam the Racecourse makes working here very special, I am sure most of my team would tell you there is no better place to work when the weather is nice, than this Estate
Q. How is the all-weather track that is being laid at Newcastle coming along?
We are on schedule to complete late March with the Tapeta surface being laid as we speak and the last of the 44 floodlights being lowered into place. We will have a few snagging and remedial works to complete but our contractors, Stobarts, have been excellent to work with and I can't commend them enough. The internal works, which are the refurbishment of public areas, we are going to delay until after Ladies Day in July' as time is running short to complete all the works in time for the Plate Festival in June, I dont think my ticker could take a delay for public and hospitality areas in the build up to Plate! We will display artists impressions of the refurbishment plans in various areas so that our customers can view the improvements over a period of time.
Q. Have the racecourse got any further plans for improvement / redevelopment planned?
Apart from the above, we have totally refurbished the Border Minstrel Pub which we are all very proud of, we will be moving to new Offices, as the current ones are now not fit for purpose for the size of the business, there will be a new Owners & Trainers area on the 1st Floor of Brandling House and very importantly, we will continue our recent announcement on the investment in Prize Money for both Flat and NATIONAL Hunt codes. This is a hugely exciting time for this Racecourse!
Q. Music shows have been a popular addition to racecourse events and last year Newcastle played host to Spandau Ballet; how have these events been received since you started holding them and what has the impact been?
The shows have been well received with Madness, Spandau Ballet, Lindisfarne and Scouting for Girls all playing after Racing over the past 2 years. The difficulty we have is that both football stadiums and the Metro Radio Arena are popular destinations for bands/artistes, so there is a risk in deciding on a band that will be attractive to a North East audience and who are currently touring. We are not having a music event this year due to the investment and development work but will certainly be looking at some events for 2017. We would love to hear any feedback from your members as to who they would like to see LIVE at Gosforth Park.
Q. The most memorable race you have seen run at Newcastle?
There have been many great races at Newcastle over the years and I am sure my Annual Members can relay great stories of famous horses running here, but my memorable one would be Harchibald winning the Fighting Fifth in 2004, to see Paul Carberry motionless in the saddle coming to the last was unbelievable, a great horseman knowing how good a horse was underneath him, quite inspiring!
Harchibald winning the Fighting Fifth in 2004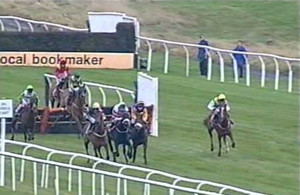 Q. What was and is currently your favorite racehorse?
My favourite horse is, and always will be, Istabraq. My first visit to the Cheltenham Festival was his first Champion Hurdle win in 1997 and I fell in love with the horse that day. I witnessed his Champion Hurdle wins in 1999 and 2000 and unashamedly shed a tear when Charlie Swan pulled him up and he was subsequently retired in 2002. My office at the Racecourse and at home (much to my wife's disdain!) have photos and memorabilia of Istabraq all over, there will never be another!
Istabraq winning at Cheltenham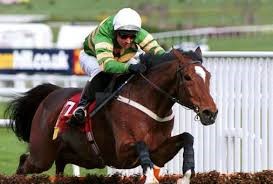 Q. When you get some spare time, what are your interests or hobbies?
I watch or follow all sport, I do have busman's holidays by going to race meetings around the country or abroad (Hoppegarten in Berlin was the last visit), I enjoy Golf when I can find time and do read a lot of autobiographies, the latest read was Dan Carter the All Blacks Captain and Centre, great read! I also holiday every year in a little village in Croatia called Cavtat, which is just the perfect place to relax, so I look forward to that each year.