Over the next month we'll take a closer look at a few of the horses we have shares available in, as well as share the Ontoawinner management thoughts on some of the older horses.
The updates are quotes by trainers or very near summations of their views.
The spotlights are a combination of updates and an insight into why we purchased the horse.
George Scott on the horses progress –
''He has now completed the breaking process with the minimum of fuss. He has shown a fantastic attitude throughout. Along with this, he has found life very easy in the early stages and I'm looking forward to increasing his work load in the coming weeks''.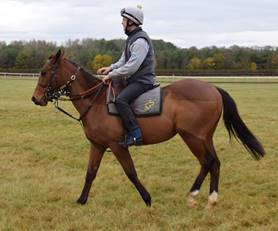 Some facts about the colt –
He is by Helmet, a very respected sire who stands for a stud fee of £10000
The sire has produced a Group 1 winner since we purchased the colt above, so this won't do us any harm.
Helmet has produced plenty of 2-y-0 winners, he sits second in the first crop stallions table, behind Sir Prancealot and ahead of Frankel.
The sire is a Group1 2-y-0 winner.
The Dam won over 5f as a 2-y-0.
This colt looks every inch a 2-y-0.
He has physically progressed since the sales, whereby some horses go backwards after the breaking process, he keeps getting stronger.
He is compact and has excellent muscle definition.
The 2nd dam produced a 2-y-0 Group winner, Temple Meads, who won the Mill Reef.
The 2nd dam also produced another black type horse.
The 2nd dam produced 5 x 2y0 winners!
Our colt is the first foal, which we like, Quiet Reflection was a first foal and she is from a speedy but less talented family than this colt.
He is a February colt, so he is an early foal.
 The colt who has been named CRASH HELMET.