Happy New Year to all our Owners and supporters.
We look forward to an exciting season on the flat with our largest 2-y-0 string to date.
We've added three new yards, and give a warm Ontoawinner welcome to Kevin Ryan, Ben Haslam and Daniel Kubler.
Kevin is no stranger to the team in reality, having trained 40 winners in the yellow and white colours when Yorkshire Racing Syndicates carried the colours in years gone by. The Royal Applause colt at Kevins is broken and ridden away, and showing plenty to suggest we'll have some fun this season with him. A few shares remain in this well bred son of Royal Applause.
We've added two horses with Ben Haslam at Middleham, both look real two year olds with the Casamento filly a stand out for filly investors. Share remain in her. The Sir Prancealot colt, also at Bens, looks a real 2-y-0 prospect also and naming rights remain in him for anyone buying 25%.
The Sepoy acquisition at Daniel Kublers is a fantastic option for Owners based in the South that want to go racing with a well bred and well stamped speedy son of a champion sprinter. Individual attention at this small yard is assured also, and the Sepoy colt could rank among our best purchases.
The well bought Kheleyf colt, at Karl Burkes, pictured below, could prove a good find for little money and the Dutch Art filly on the website is a particular favourite already, and naming rights remain for the discerning filly investor, from a fantastic sire who stands at £40,000.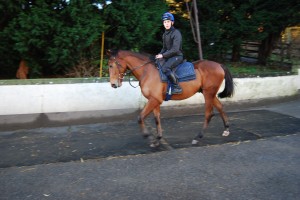 The speedily bred Baie Da'Amour will be out early we hope and will run for Ontoawinner and SDH Project Services Ltd. The owners should have some fun. A fantastic acquisition from Ballyhane joins in the form of the Elzaam colt and Karl Burke, like Ben Haslam, will train a Casamento filly for us called Bournville. The name comes from the home town of Jon Farmer's father, Jon being a great supporter and friend of ours.
Tim Easterby will train five 2-y-0s for us this time around, as a thank you for a fantastic season in 2015 with Sakhees Return and Flying Pursuit. Hard work is rewarded by Ontoawinner, and we'll invest where we are successful.
Among Tim's string, we have a striking looking Harbour Watch, where the final 20% will buy you naming rights. He is a gorgeous prospect. Nobility, a son of Alfred Nobel, will race for Ontoawinner, Trojan Horse and Jim Pak. He was a cheap but well bought colt, and we'll have some fun with these good owners win lose or draw.
Suited, a well named daughter of Paco Boy out of Birthday Suit, is a racy looking sharp filly who we hope will add to the sires growing reputation. Named by Sandra and Phil Reed, who are fantastic with names, we hope she is out in April or May and we have some fun. Tim trained the dam to great success.