Focus On Corinthia Knight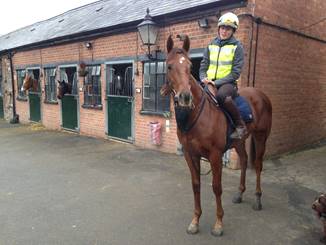 Archie Watson is a young trainer with a bright future if he continues to progress as he has done over the last few months.
Archie Watson on the horses progress –
'He does everything very easily. I'm looking forward to increasing his work load in the coming weeks. He leads the other youngsters. He is an early foal and I think he will be out early, he is already doing fast work, we're well ahead of schedule'
Some facts about the colt –
He is by Society Rock, a very respected sire who was himself a very quick horse.
The sire was a Group 1 winner of the Golden Jubilee and The Haydock Spring Cup.
The Dam has produced 2-y-0 winners.
This colt looks every inch a 2-y-0.
He has physically progressed since the sales, whereby some horses go backwards after the breaking process, he keeps getting stronger.
He is compact and has excellent muscle definition.
The dam has produced a black type horse.
The dam has produced the very tough Chiswick Bey.
He is a January colt, so he is an early foal.
The 2nd dam was a black type mare and produced a black type horse. It's a seriously successful family.
There are shares still available in the colt who has been named CORINTHIA KNIGHT.
He is priced at £420 per 2.5%.