Peter Sword talks to OnToAWinner.
Q1. How did you get involved in racing?
I always liked horses as a young lad but never had anything to do with one, I used to go to Newcastle races with my dad everyone and then and loved it! I hated school and wanted to leaves ASAP, I found out about the northern racing college in Doncaster and applied straight away for a place, I was pleased to be accepted and from then on I aimed to be a jockey even though I wasn't to sit on a horse till I was 16! The lads at school used to joke about saying I was the right height for it but I never gave it a serious thought until I had finished school. After a 3 month course I was extremely lucky to be offered a job with Luca Cumani.
Luca Cumani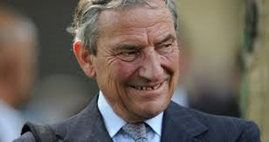 Q2. Which yards have I worked at?
Well my first job was with Luca Cumani in Newmarket (a tadpole in an ocean!), after a season I moved closer to home and joined Alan Swinbanks yard for another season, from then I joined Bryan Smart, where I spent about 3 and half years altogether and who I had my first ride for. My final job was with Karl Burke where I spent 2 fantastic years and wouldn't have changed it for the world. Unfortunately due to the weight demands I had to end my race riding career, yet I was still a work rider for Karl up until December 2015.
Q3. What is a typical day like working in a racing yard?
Very early mornings! Majority of them being cold or wet! With it being so early there's not much conversation though out 1st lot due to not many 'morning people'! Usually the first 1 or 2 lots will be the older horses then 3rd and forth would be the 2yr old yearlings and colts…but everyone was glad to squeeze in a brew after 2nd lot (sometime would have preferred a whiskey after a complicated ride!). After each lot the guv'ner would ask for feedback on your horse I.e moving ok, breathing ok, how well he/she carried you to the top of the gallop or anything else you think the boss needs to know. Also after each lot you may have to give the horse a little wash down and a walk round just to cool them off after exercise. Usually after 4th lot has been dressed over and put back into their stables we would help the ground staff with tidying the yard up, things like sweeping, feeding, topping up the horses water buckets etc. We'd usually get about 3 hours off in the afternoon to go home for lunch and a much needed rest! Then return for evening stables at around 4 o'clock where each lad or lass would groom, hay and water each of the 4/5 horses they look after before again helping finish off the feeding and tidying the yard up. Everybody and then the boss would come and wonder round the yard just having a look at the horses while you groom them over but also have a bit of chat with the lads and lasses (in my case it was a chance for Karl Burke to give me stick about Newcastle United!).
Q4. Did I try to adjust my riding style to be like any certain jockey?
Of course every young apprentice wants to be like the big lads….I love the way Ryan Moore rides, his strength in a finish is unbelievable and you have to admire his coolness, he never panics! But you have to ride the way you feel comfortable, I used to ride slightly longer, yet other lads prefer to ride shorter. Everyone has to have their own style in my opinion.
Ryan Moore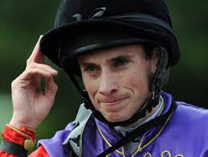 Q5. Which is the best horse I have ridden?
It would have to be Bauer for Luca Cumani, a horse who was once placed the Melbourne Cup. Or the Yellow and Whites very own Quiet Reflection….she's already proven her class….but I think as a 3yr old she will strengthen and mature very well, I think she ouzes class and professionalism.
Bauer just being touched off in the Melbourne Cup in 2008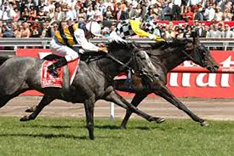 Q6. What has been my favourite horse?
A fully called 'What Say You' bred by Gallileo X Alta Anna and trained by Karl Burke. I rode this filly everyday since she was a yearling till 3yr old when I left Karl's yard. I used to get p***ed off when Karl would let one of the pros ride her in a piece of work every now and then and I'd be jocked off!!
Q7. What is my most memorable day when riding?
My first ride under rules on a gelding called Angaric, it was in a 6fl apprentice hcp at Hamilton. He won at 7-1. And I couldn't have been more chuffed that I'd ridden a winner on my first ride!
Q8. What do I miss most about not working in a racing yard?
I miss the horses of course, riding work on a Tuesday and Friday, I miss watching a 2yr old that you've been riding and educating for months have his racecourse debut….and the rewarding feeling after watching them run well. Obviously I miss the craic around the yard with the lads and the boss etc. No matter what…it's always a team effort, from the boss' training, the work riders, the ground staff who keep he horses beds nice for them, to the person in charge of feeding. Everyone plays a part in each winner had.
Q9. Where is the best yard you have worked?
Without a doubt Karl Burke at Spigot Lodge. You are always made to feel welcome, the staff are so friendly and everyone works together. What I appreciated was the fact that at other yards I've worked at…I didn't feel like I could walk straight up to the boss and have a general conversation about anything, but with Karl it was the opposite, he always has time for his staff. He makes sure everyone is happy, even on a cold, wet Monday!
Karl Burke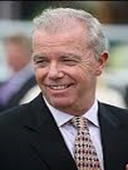 Q10. What is my most favourite food?
It has to be Italians…..anything with garlic! If I'd had garlic the night before work, I felt sorry for the people I was riding out with!! Haha!
Q11. What do I like doing in my spare time away from work?
I am a mad Newcastle United fan (unfortunately). I try to watch every game possible. As well as playing the odd round of golf and spending time with my partner.
Q12. Plans for the future?
I'm still young I suppose….I'm looking to gain a qualification as a Cable Joiner and earn some good money to set me up for the future. Is miss working in racing a lot, but sometimes you have to do what's best for yourself, I keep in touch with people from the yard and I make sure I give Karl a text after he's had a nice winner, or to take the p*** when Newcastle beat his beloved Liverpool!!