Up close and personal with Niall O' Brien – OnToAWinner Director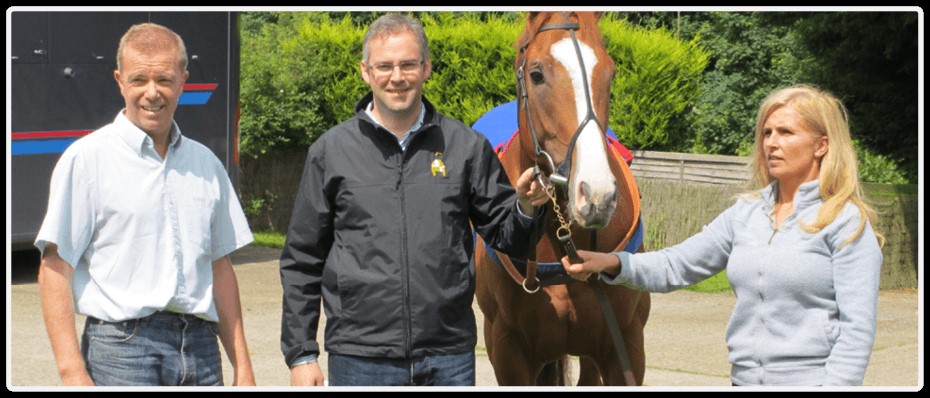 Niall is pictured with Yourartisonfire, and the fantastically astute Karl and Elaine Burke.
Where does the passion for racing come from?
My Dad brought us racing everywhere when we were growing up. I loved going racing. I was fascinated by the controlled power and beauty of the racehorse, aswell as the colours and characters that made racing. I compiled my own form books as a young boy in the days before the internet. The sport is fantastic, there's no sport like it. Looking back it has always captured my imagination and still does.
What is your best racing memory?
You never forget your first winner. We'd waited awhile but eventually tasted success with Dilsaa at Nottingham on July 14th 2001. My dear friend and colleague Simon was there, it was a day that captured both of our imaginations and 120 winners later, and 15 years on we still reminisce about that day Ollie Pears rode the Kevin Ryan trained gelding to success for us. On the way home in the car from Colwick Park we thought we could take on the world, we were on such a high.
I've had brilliant days out with Fast Shot, Quiet Reflection, Toocoolforschool and many more. I have a deep bond with Quiet Times, who lives with me at home, as in many ways he was instrumental in attracting owners to me in the early days. Going to Dubai with him was amazing, I was so proud of what we'd achieved together.
What do you do to switch off?
I struggle to switch off. I'm a workaholic. I'll rest when I've past my last post.
Who do you most admire in racing?
I've had some phenomenal days with great friends in racing, and have made deep and lasting friendships. Aswell as Simon, I have a huge respect for many of the Ontoawinner Managers, Owners and Trainers. The team work so hard they deserve great days. I feel when people get you success or back you, you owe them, and I feel I owe many of the Ontoawinner owners a great deal. There's a huge team spirit among the Owners and Trainers. My wife Sally is also very supportive and affords me the space and time required to give Ontoawinner the thought and respect it deserves. We owe Karl and Elaine Burke so much, they have propelled the Ontoawinner story forward ahead of time.
Outside of the immediate Ontoawinner family, I do have a real respect for Peter Easterby, I think he's a fantastic character, modest and very witty. I hang on his every word when I'm in his company.
What horses are you most looking forward to seeing this season?
Quiet Reflection is very exciting and I don't think we've seen the best of her. I think London Protocol is an improver. I do like going racing with tough horses like Flying Pursuit and Sakhee's Return because you know what you'll get with them.
For deeply personal reasons I'd love if Vaux won a race, and he has the ability to do so.
Who is your dark horse for 2016?
Tough question, we've bought so many good moving racey two year olds, we couldn't have dreamed of being able to assemble such a string three years ago.
Made of Honour is a big rangy filly who could be anything. I love Castle Hill Cassie's page. I hope we have another black type filly in the ranks somewhere.
What would be a good season?
Our previous best season was 27 winners, which came in 2014. I'd love to top that and have another Group winner. Winners at the top level are so difficult to get hold of, they are precious when they come.