Description
We are delighted to offer this lovely big Chestnut Colt by Harbour Watch out of an unraced dam. He fills the eye beautifully like Sakhees Return did. He looks every inch a 2-y-0 and we cant wait to show you him. He commands his space well. He has a bit about him.
Harbour Watch was the unbeaten Champion two-year-old son of Acclamation. Trained by Richard Hannon he was considered the best 2 year old in the country before he retired through injury. Known for a perfect attitude and a powerful change of pace, his offspring have been extremely popular at the sales in 2015 due to their racy and athletic nature.
This colt also qualifies for the new Plus 10 scheme being by a stallion resident in the GB or Eire, where qualified horses earn an additional £10,000 should they win a class 4 maiden or above on top of the normally allocated prize money for the race victory as well as an additional £10,000 for each subsequent win in a class 4 to class 2 novice or conditions or nursery Its a fabulous new initiative and replaces the Racing Post Yearling Bonus and BOBIS Schemes previously. He also qualifies for the £250,000 DBS sales race at York which is open to horses sold during his sale.
Our colt is very athletic, is a beautiful mover and has a tremendous temperament. We will be arranging viewings in the coming weeks, contact us a.s.a.p if you would like to see him, we dont expect shares to be available for long.
Walking Video
Details
Age: 3
Wins: 0
Places: 0
Sire: Harbour Watch
Dam: Golden Dirham
Trainer: Tim Easterby
Send Enquiry
Pricing
Share Price SOLD
Monthly Fees SOLD
Share Price SOLD
Monthly Fees SOLD
Share Price SOLD
Monthly Fees SOLD
Breeding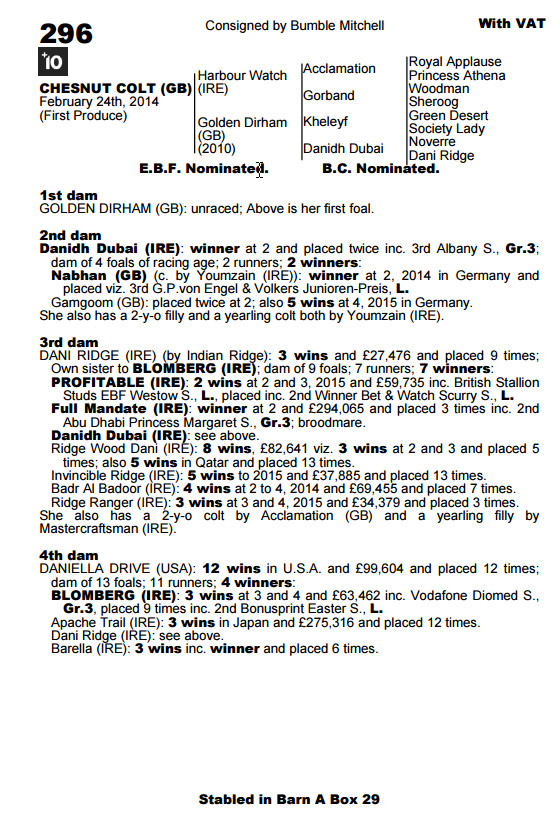 Trainer: Tim Easterby