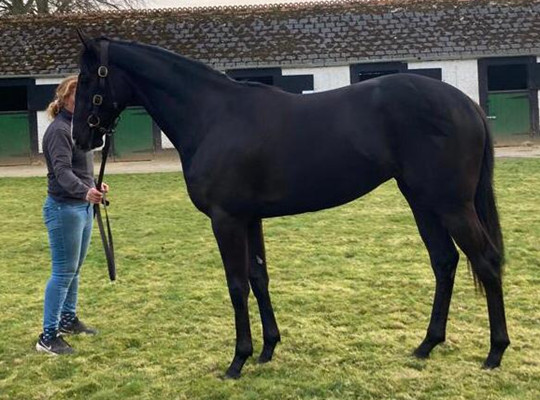 Description
We are delighted to add another to the string with Tim Easterby for the 2022 season in the shape of this smashing Twilight Son filly. We visited her in Ireland and were very impressed with her, both as a physical specimen and after seeing her work on the Curragh. To say we were delighted to secure a deal for her before she went to the breeze up sales would be an understatement.
Twilight Son was a specialist sprinter who won six of his ten races in a racing career which lasted from August 2014 until October 2016. He won both of his races as a two-year-old and his first three races as a three-year-old including a victory in the Group One Betfred Sprint Cup. As a four-year-old in 2016 he recorded his second Group One success when he defeated a strong international field in the Diamond Jubilee Stakes. He was retired at the end of the season to become a breeding stallion.
This filly will be early. She is quick and we will target a pre Ascot maiden with her. She moves and looks like a nice horse and we are delighted to secure her.
This filly qualifies for the GBB bonus scheme meaning that she could earn up to £20k in bonuses per eligible race.
Pricing
Share Price £200
Monthly Fees £85
Share Price £400
Monthly Fees £169
Share Price £800
Monthly Fees £325
Share prices include: Purchase price, sales house & bloodstock agents commission, vetting and transport. Naming rights are available with a 25% share purchase. One free Owners and Trainers race day badge with a 2.5% share, two free badges with 5% and over.
Details
Age: 3
Wins: 0
Places: 0
Sire: Twilight Son
Dam: Dream Dancing
Trainer: Tim Easterby
Send Enquiry
Videos
Pedigree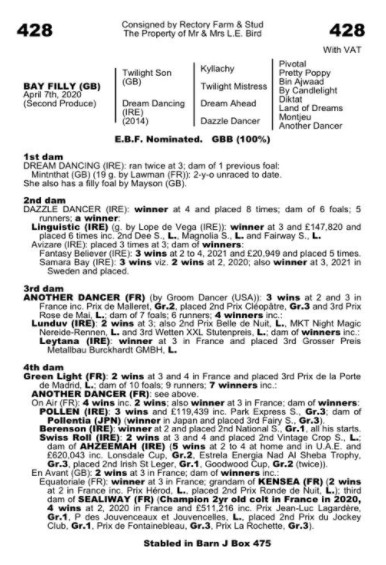 Trainer: Tim Easterby